Regular price
Sale price
$44.00
Unit price
per
Coming soon
Protect your most valuable shoes from all kinds of damage by using our strong & sturdy, UV light, dust, and water resistant sneaker storage boxes. 
Shipping & Returns

All product can be returned within 14 days if new or faulty. Please read our shipping and returns policy for more information.
Dimensions

22cm Height
29cm Depth
36cm Wide
FAQs

Q: Will my high-tops fit in this?
A: Yes, you can stand your high-top shoes just the same you would with your low shoes.

Q: Will my size 12's fit?
A: Yes, all of our crates will fit up to a UK13/US14

Q: Can my shoes breathe in the crates?
A: Yes, we have small, hidden openings in the crates to prevent dust, yet allow your shoes to breathe so the don't become dry.

Q: Are they easy to build?
A: Once you get the hang of it, each crate can be built within 20 seconds

Q: What is the sticker used for on the front of the crate?
A: This is an optional sticker you can use to help organise your shoes better. You can write the size, style code, and other bits of information to help get a quicker visual of which shoe you're looking for. This is especially helpful when you have multiple pairs of the same shoe but maybe a different size, or different year.

Q: How many crates can I stack on each other?
A: As high as your ceiling allows!

Q: What are the dimensions on each crates?
A: 22x29x36cm

Q: Can the crates topple over if stacked too high?
A: As long as the crates are placed on a flat surface, they will not topple over. The crates have an interlocking system when stacked on top of each other to prevent this.

Q: How durable are the crates?
A: All of our crates are designed to be extremely durable and can hold up to 100kg of weight!

Q: The website only lets me buy 50 crates, but I need more. How do I do this?
A: If you need more than 50 crates, email us at sales@sneakspply.com
View full details
Free Shipping

Free UK next day shipping on all orders over £80+

Hassle-Free Exchanges

Exchange your product anytime up to 14 days after your purchase,

Finance

Pay in 30 days with our finance partner Klarna. See above for details.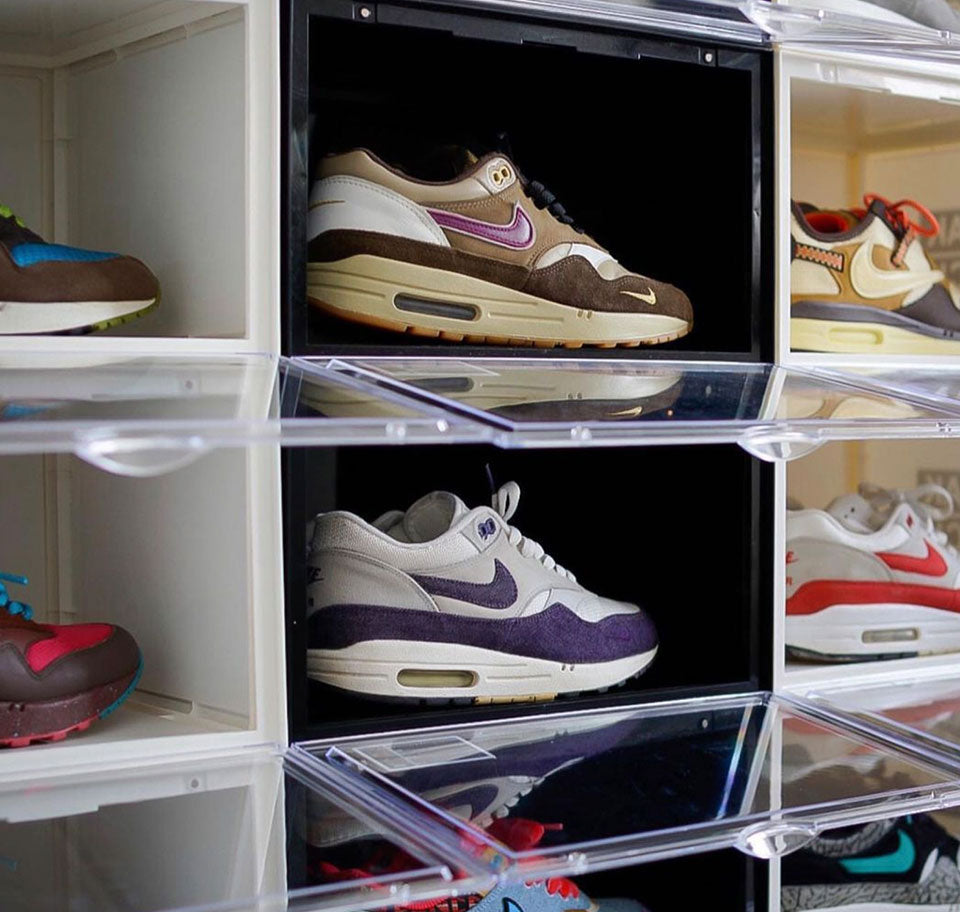 Protect Your Shoes
Protect your most valuable shoes from all kinds of damage by using our strong & sturdy, UV light, dust, and water resistant sneaker storage boxes. In turn this will also protect the shoes original shoe box from damage by being stacked underneath other heavy boxes.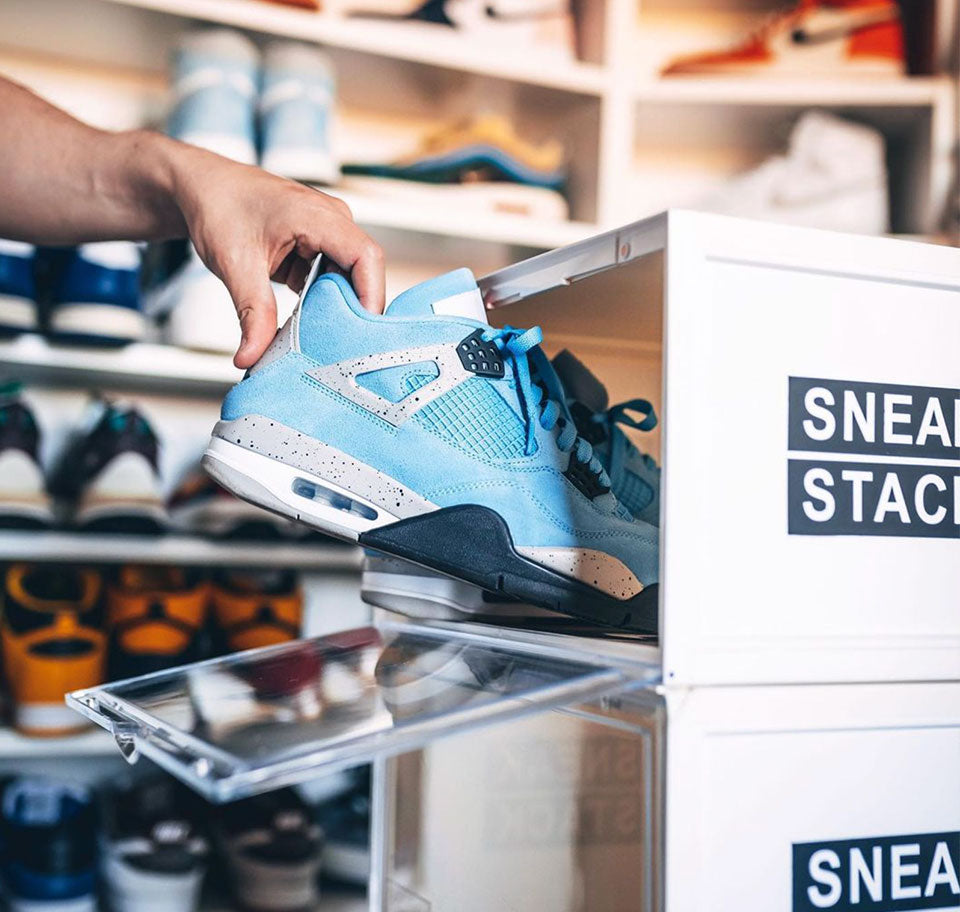 Display Your Shoes
Don't feel like you need to sacrifice showing off your favourite shoes in order to protect them. With our side facing, stackable boxes you can not only protect your shoes, but display them in great fashion.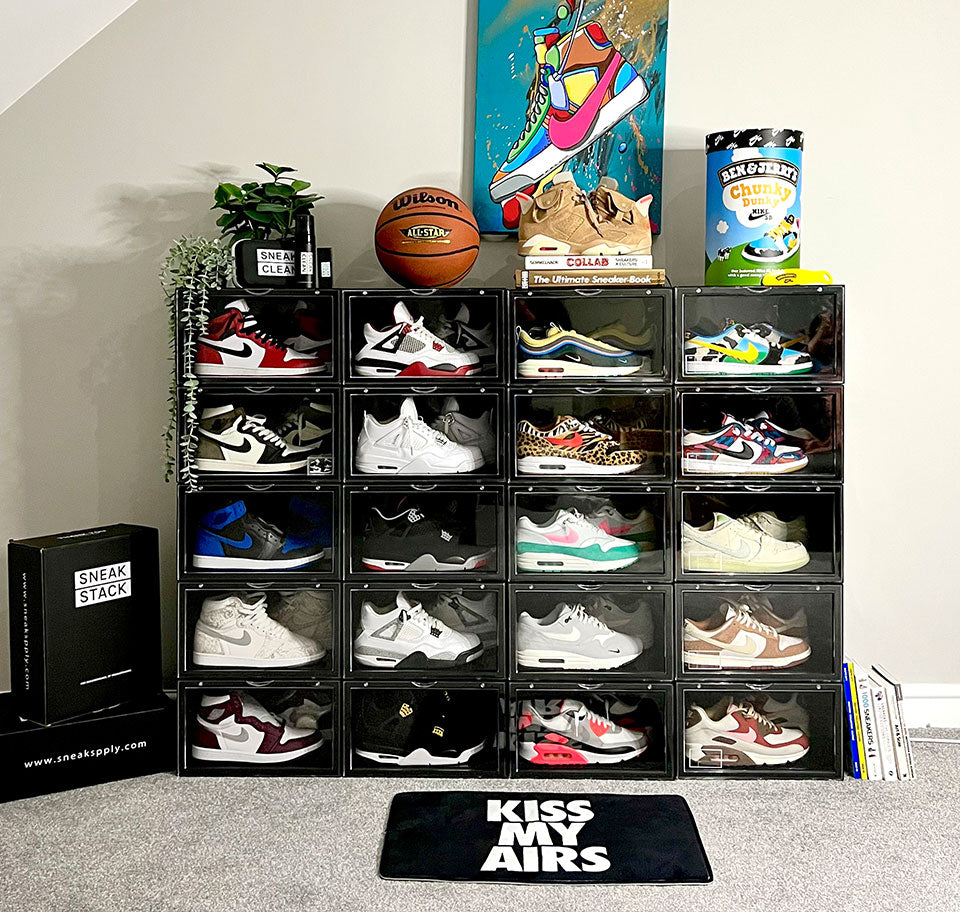 Organise your Collection
If you have been collecting for a while, then like most other avid sneakerheads, you will have piles upon piles of random boxes, leaning towers and shoes on the bottom of the pile that never get worn because its a pain getting to them. Our stackable boxes can stack as high as your room permits, without leaning, without damaging, and making it as easy for you to grab a pair from the bottom of your pile, as it is the top.